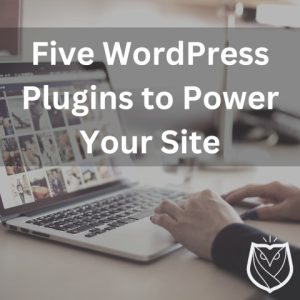 There are thousands of free WordPress plugins, so how do you choose which ones to use? Not every plugin is created equal. And like all software, they sometimes come with bugs – and even sometimes unintentionally introduce security vulnerabilities. Additionally, each WordPress plugin you use will affect your website's performance, so it is best to limit the number of plugins you keep around. I always advise our clients to only keep the plugins that are actually in use – and get rid of the rest!
That said, here are five plugins I would generally recommend for any WordPress website.
1. WordFence Security
Wordfence is one of the more popular cybersecurity plugins for WordPress. Configured properly, it will help to protect your site from brute-force login attempts, malicious code exploits, and other kinds of hacking attempts. One of the things I like best about this plugin is that the firewall component will automatically block IP addresses after a threshold (that you can customize) of failed login attempts.
Although there is a premium version of the plugin, the free version works just fine and is sufficient for what's needed for the vast majority of WordPress websites.
2. Yoast SEO
Yoast will help with your … you guessed it! Website SEO. This plugin will automatically analyze your posts to help you get the most out of your blog entries. It also generates – and submits – an XML sitemap to the major online search engines. Barred Owl Web's sitemap, for example, is located at https://barredowlweb.com/sitemap_index.xml.
Whenever I write a new blog post, the two features I find most valuable are (first) its analysis of your post Title, and (secondly) the ability it gives you to focus on – and improve upon – a key word or phrase. Without it, the title to this blog post on 5 WordPress plugins would have been a lot more boring!
3. WP Super Cache
The speed of your website should always be a priority. We've covered aspects of improving a website's overall speed in multiple blog posts (see Tuning your WordPress Website, and Website Performance Tuning). A key component to all of this is caching your website – and WP Super Cache does a super job at this. This plugin will take your website and literally turn your pages into static html content. This saves loads of time, because now you're avoiding MySQL database queries, and no PHP code has to get executed.
The only downside to this is that the cache sometimes needs a lot of disk space, depending on how big your website is. Also, be aware that this type of caching isn't great for everyone – especially if you have pages with lots of dynamic content on them (such as WooCommerce produt pages that display current inventroy).
4. Smush
Did I mentioned that your website needs to be fast? Smush helps that speed by optimizing your images. The plugin helps you resize your images down to exactly how big they should be. It will also compress your existing image files without sacrificing image quality. Smaller image files are definitely better than larger ones, because the small ones download to your visitors' computers faster!
5. Google Analytics for WordPress
This last item is, admittedly, not for everyone. But Google Analytics is a (free) tool used by millions of websites, and MonsterInsights' Google Analytics for WordPress is one of the many WordPress plugins available that makes it seamless to setup in WordPress. If you want to better understand how people find – and use – your website, and how long they stay on your website, you should definitely check this out.
If you need help with any of these plugins (or any other WordPress plugin, for that matter), then contact us to discuss how Barred Owl Web can help!