A Content Management System (CMS) is software that makes it easy for website owners to update their websites. WordPress is one such CMS. And it powers over 30% of the websites on the internet today. In this blog post, I will introduce it, and will make some suggestions for plugins you should use.
WordPress
was originally launched as a blogging platform in 2003. But today, it is so much more than just blog software. There are plugins that help you do just about anything you would want to do with a website, including e-commerce plugins with shopping carts, membership plugins for private areas and restricted content, and multiple visual drag & drop editors to help you customize your website design.
Choosing the Right Platform & Getting it Installed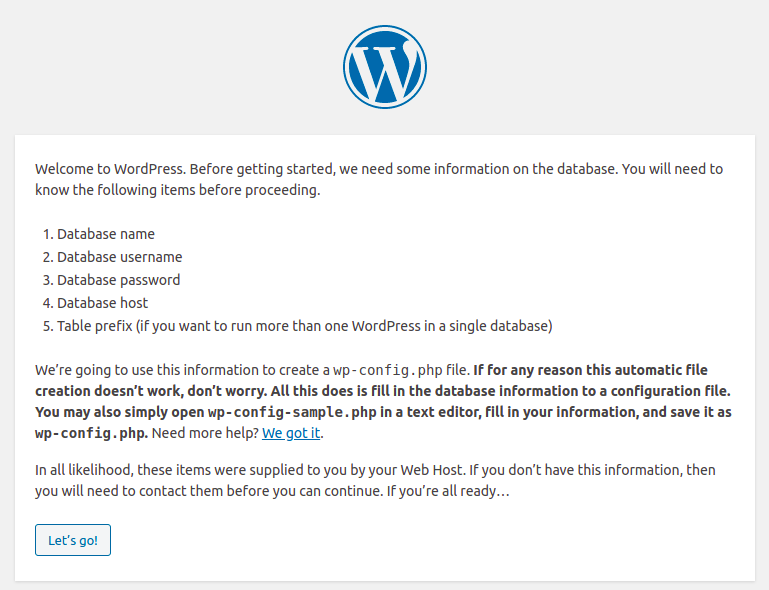 The
easiest
way to start your own WordPress website is to get a free blog from wordpress.com. However, their free platform comes with some downsides. It doesn't come with a custom domain name, and it is not completely customizeable. So for these reasosns and more, I almost always recommend downloding the software from wordpress.org, and working with a web hosting company, instead. WordPress software is supported by millions of web hosting companies, including Barred Owl Web. So the
first
thing you should do is find a hosting company to work with. Here's an older blog post we wrote that explains the
different types of web hosting
, and what you should look for in a provider. WordPress requires a database, so make sure you choose a provider that supports MariaDB (or MySQL). Once you've settled on a hosting provider, simply head over to
https://wordpress.org
 to download the latest release, and then install it. They have detailed, step-by-step how-to instructions on how to install it at
https://wordpress.org/support/article/how-to-install-wordpress/
. Alternatively, some web hosting providers have a 1-click install for WordPress and other applications that you can use.
Building Your Website
Once you've installed WordPress, you can start to configure it. Plugins are typically really easy to install, and you can do it from directly within your website. Navigate to your website and to this page in your admin dashboard: /wp-admin/plugins.php. Then click on "Add New" in order to search for and automatically install any plugin that is in the
WordPress Plugins Directory
. The first plugin that I typically install onto any site I'm building is
WordFence
. The free version will typically work fine. This is one of a handful of decent security plugins that will help protect your website from hackers. It includes a web application
firewall
, can help to protect your code from malicious scripts, and will help to protect against brute-force login attempts. WordFence – or another plugin like it – is crucial for the overall health and security of your new site.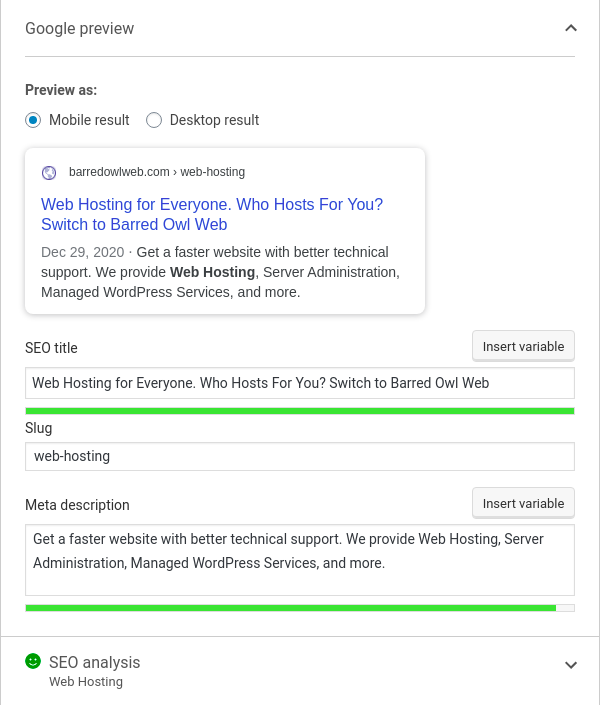 Another plugin that I like to use is
Yoast SEO
. Like WordFence, the free version will meet most people's needs. Yoast will help you jump start your website by helping you focus on the keywords that matter to you, submitting your website to search engines, and helping you refine your message. 
The screenshot to the right comes from the yoast plugin.
Another reason I like Yoast is that it will automatically analyze the text you write on a page or blog post for readibility. It gives you simple suggestions on how to write great content.
Designing Your Website
Every website has a design, so why not make it look good? When you're just starting out, you can choose from many themes for free at 
https://wordpress.org/themes/
. Just like with plugins, you can install the free themes from within your WordPress admin dashboard. Simply visit your website and go to /wp-admin/themes.php, where you can click on Add New. There are lots of themes that you can purchase, too. I have had customers use paid-for themes from 
https://themeforest.net/
, for example. And finally, there are many tools that extend and enhance the default WordPress editor, making it even easier for you to design your own website. These include
Divi
, Elementor, Avada and dozens of others. Barred Owl Web is built with Divi.
In Conclusion
It is extremely easy to customize your own WordPress website. There are hundreds of plugins and themes to choose from, so you can configure it to do just about anything. Blogging is of course a central component supported by WordPress, but you can also build fully customized e-commerce websites, learning management systems, membership directories, and so much more. I hope that this post was helpful. If you need custom help, our team would be glad to assist. We would also love to help you by hosting your first WordPress website.