There are many reasons why nonprofit organizations should centralize and backup their data. But often times, a fully functional Microsoft Windows server isn't necessary. It is overkill, and there is no reason why an organization (or individual) should pay so much money for hardware and software features that they will never need or use.
Enter the NAS. Short for "Network Attached Storage", a NAS is exactly what it sounds like: a small server that stores and shares data over a computer network.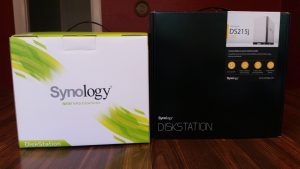 In this post, I am reviewing and comparing two NAS devices made by Synology, a company that sells several different NAS devices with varying degrees of performance features, compatible hard disk space and, and all of which run on the same underlying software. Most of what I describe below will be on the software which runs on both devices.
Earlier this year, Barred Owl Web became certified in all of Synology's products. Any company can resell Synology products. But we are one of a few companies that have taken the extra step to prove we understand the differences between Synology's products, and to prove that we can support them too! At the time of this writing, Barred Owl Web is the only company in the entire state of Tennessee that is Synology certified.
The Home Screen on the Synology DSM 5.2 software as seen through a web browser.
What The Model Numbers Mean…
Note that you can also learn about the Model Numbers in Synology's Product Brochures.
Synology's model numbers are actually quite simple, once you understand them. In this post, I'm reviewing the DS713+ and the DS215j.
The Prefix: "DS" vs "RS" – The first two letters, DS, stand for "Disk Station." Synology sells Disk Stations (DS) as well as Rack Stations (RS). Disk Stations typically sit on a desk or table, while Rack Stations are installed into server racks or cabinets (typically found in data centers and network closets).
The Next Number – The next number indicates the maximum number of hard drives (with an "expansion unit", if one is compatible). The DS215j, you can have only 2 hard drives. It is not compatible with an expansion unit. The DS713+, can use up to 7 hard drives (2 in the primary unit, and then, if you want to purchase a 5-bay expansion unit, you can have up to 7 hard drives).
The Last Two Numbers – The last two numbers stand for the year the model was first available. The DS713+ was released in 2013, while the DS215j was released this year (2015).
The Suffix: Nothing, "j", and "+" – The suffix has a meaning too. The plus sign (+) indicates that the unit is part of Synology's Performance Series. It is for high performance use. The j, on the other hand, is an entry-level system: According to Synology, it is easy to use and is best for personal, home use.
Installing the Hard Drives
Unless otherwise specified, Synology NAS devices are sold "bare bones" without any hard drives. This means, in addition to the NAS, you need to purchase 1 or more hard drives to be used in the NAS. You can find out all of the hard drives that are officially compatible with a Synology NAS by visiting https://www.synology.com/en-us/compatibility.
The DS713+
I've owned the DS713+ for several months. When I first purchased it, I installed two "Enterprise" quality Western Digital 1TB hard drives (Model #WD1003FBYX).
The process of installing the drives is a breeze. No screws or screwdrivers are required, as this Synology model includes a hard drive tray complete with a nifty locking mechanism that snaps the hard drive into place. All you have to do is slide the empty tray out, snap the hard drive into place, and slide the tray back into the NAS.
The DS215j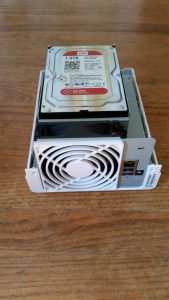 Ironically for the more entry-level model, installing the hard drives into this NAS is a little more complicated. Screws (and a screwdriver) are required, and no easy slide-in trays come with it. For this NAS, I installed two "NAS" (Red) quality Western Digital 1TB hard drives (Model #WD10EFRX).
I was briefly confused on how to open the NAS cover, but quickly discovered it snaps together in two pieces that you can easily take apart. The brackets that hold the hard drive in place are sturdy, and aside from having to physically screw the drives into place, the installation was quite simple.
Installing DSM (The Software)
Like almost everything else about the Synology NAS, the setup and installation of the software (DSM, short of DiskStation Manager) is very simple. After you plug in the power supply, connect a network cable and turn it on, you can simply visit http://find.synology.com, which is a tool that will help you locate and connect to the NAS on your network.
The Home Screen on the Synology DSM 5.2 software as seen through a web browser.
The setup will guide you in connecting to the NAS, installing the latest available DSM software, and setting up an administrator username & password. After DSM is fully installed, you'll be prompted to login, at which point, you'll be directed to the home screen.
DSM Features
As mentioned earlier in this blog post, DSM is the base software that run on all models of Synology NAS devices. Additionally, more features can be installed by visiting the Package Center, such as a DNS Server, antivirus software, an email server, and even website Content Management Systems (CMS) like Drupal and WordPress.
From what I can tell, there is no difference in the availability of packages on the DS215j compared to the DS713+ even though the devices are advertised for different target markets.
The Synology Package Center
Tech Specs
DS215j
The DS215j has a MARVELL Armada 375 800mhz Processor, and 512MB of RAM. It has 1 Network Port, 1 USB 3.0 connection, and 1 USB 2.0 connection.
DS713+
The DS713+ has an INTEL Atom D2700 2.13GHz Processor, and 1GB of RAM. It has 2 Network ports, 2 USB 3.0 connections, and 1 eSATA port, making it compatible with an Extension Unit to add storage.
Summary
Synology has a great product, and while the cost of a Synology NAS differs based on what model (i.e. hardware) you choose, it is the software that sells these devices. Even at 2 years, the DS713+ is a great product for small to mid-sized businesses, while the DS215j is perfect for home use.
The DS713+ will be replaced later this year with the DS715+ (which is not yet released), and I only expect this hardware to be even better with less power consumption.
Need help with your Synology Backups?
We offer Synology Hyperbackup off-site backup solutions starting at $300/year.